A Communtiy Pharmacy Designed For you
We are a locally-owned community pharmacy dedicated to providing outstanding customer service at an affordable price. At Dakota Country Pharmacy, we are committed to providing the highest standard of quality and service. Dakota Country Pharmacy is proud to be your source for all of your pharmaceutical needs. We offer a wide variety of services including conventional prescription filling, medicare open enrollment, long term care, mail delivery and much more. Visit us today to experience the Dakota Country Pharmacy difference.
Subscribe to our newsletter for seasonal promotions, health news and savings
Welcome to Dakota Country Pharmacy
Our wonderful staff has over 63 years of combined pharmacy experience. We are dedicated to providing you with the best level of care, and you will love our services designed to make your prescription refills simple and economical. If you want a first-class pharmacy experience from a family-owned business, then you have come to the right place.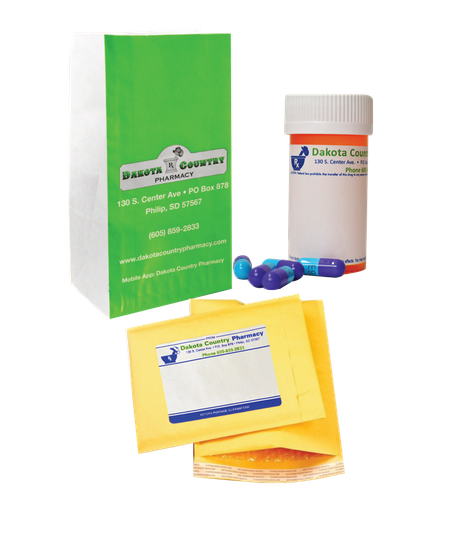 Making prescription refills simple and economical
Delivery straight to you. Mail delivery to customers anywhere in South Dakota. No standing in line or waiting around at the store.
First-class mail. Delivery in 1-3 business days at the most affordable rate. Saving you money on fuel and travel time.
No more worrying about insurance. We handle any insurance issues for you by taking the time to contact your insurance company.
No more chasing down refills. You don't have to chase down refills from your doctor because we will call and get them for you.
Preferred network pharmacy. You save money on prescription medications because we are a preferred network pharmacy.
Download Our Free Mobile App

Refill On-The-Go
Refill your medications 24/7 when you're on-the-go or in the comfort of your home.

Pill Reminders
Set reminders to take your medication or when it's time to request a refill.

Delivery Options
Request a refill with a single click and have it delivered to your door.